A fair assessment of TA these days
Brings a whole new meaning to Am dram.
Am dram? Is Toerag diversifying into whisky?
Somebody murdered Matt and transformed him into a pile of dead fish. Clearly we're looking for a witch.
Continuity thought it must have been a crocodile. #overacting
In rhyming couplet I hope.
"Here I am, a crocodile,
Lying in the Am, for a while.
By the reeds, to take a snap,
At an actor who is crap.
Hoping to chew on something tasty,
And if not I'll just chew Kirsty.
If nothing else it'd be funny,
To have a veggie in my tummy".
Excellent, Armers, but I'm a bit worried that the poor thing might be overfed…
BBC:
The pollution is definitely coming from Home Farm.
Runoff from a toxic Kate?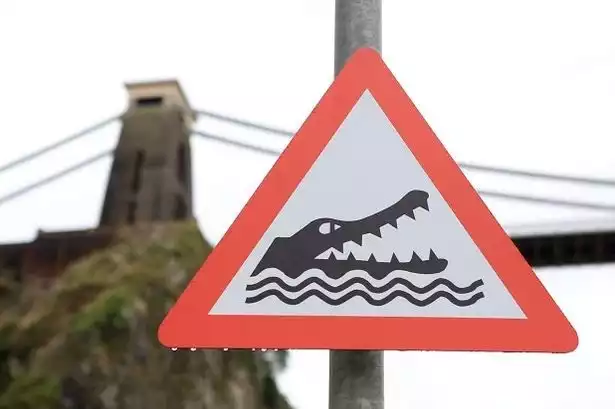 Perhaps Ambridge would like to copy the Bristolian sign?
They have printed the wrong text with yesterday's synopsis header. We have not yet heard who is responsible for the pollution.
Is the pollution Stephan? Or, am I hopelessly lost?
Don't, or do, answer.
Soo xx
I think it's the mystery pollutants that are hopelessly lost, wandering aimlessly upstream (according to That Fish. I don't really have much of a mental map of Ambridge, and it is an area of high geomorphic anomaly so I'm not going to bother trying to maintain one, either!)
Aye, those geomorphic anomalies - darn 'em to heck, I say.
(But - where is Stephan?)
Where is The Archers, for that matter?
Soo xx
Stefan failed to get money out of Rob and shopped him to Justin and got some hush-money out of him, then (presumably) went home.
And Justin immediately sacked Rob.
Okay. I could hate how you spell better and know more, but I don't.
Soo xx
I did enjoy Susan's gleeful anticipation of Kirsty developing 'symptoms'. Mind you, I'd quite enjoy it if she did, too.
Pip wasn't involved in the new traditional New Year's Day Am plunge, was she? < Gus enquired hopefully > Because if the pollutant were to be teratogenic, that would be oh, just glorious…
I'm afraid Pippy-no-mates had not been invited. Pity, that.
It might mutate into a normal human being.
I am full of dead fish just at this moment.