Is that a tiny periscope I see emerging from yonder tomato?
Gus dear that is the tomato stalk
I leave em on as handles for lifting martyr lids…
Not EVERYTHING is a negg looking at you!
Phew. But do admit, Twellsy, it was an easy mistake to make in the circs.
Well for the egg phobic amongst us I can see the problem
Could you beat up the eggs so that you got more of a scrambled effect, no creepy yolks for Gus?
Oh, I forgot to mention that the kippers were in a white sauce, so you can imagine how rib-sticking, what with the eggs, the butter in the sauce, the oil in the kippers and I suppose more butter for cooking the omelette. We all had cast-iron stomachs, luckily. I must ask LadySusan if she remembers. She survived, I can confirm that.
The core food groups are salt, sugar, garlic and grease.
sugar + grease, if viewed reductively/made by Cadbury's.
This is veering strongly in the direction of omelette Arnold Bennett*
*far from the finest hour of the Savoy, imo, but magnificently calorific
Oh, well, now you've given it a name, perhaps I'll have a go at it again.
Smoked haddock, sauce hollandaise, parmesan.
The important thing in chocolate isn't the sugar or the grease. It's got theobromine as well.
OAB was one of the skills tests in a recent series of professional Masterchef: some absolute horrors ensued. I was tsssking away like anything.
That's why there are other people.
Gus it delights me to know that you tsk at the same things I do
I doubt that would be adequate to cope with drinking tea/beer/wine/gin/whatever all day, but you are thinking along the right lines there Gus. There are some things other people just can't do for you, no matter how hard you try to persuade them.
And much does rather depend on where you're sitting
Think I'm going to enjoy dinner tonight. Leg of lamb, potatoes (roast + boiled in skins), sparrergrass, carrots…
…and just to wash it down: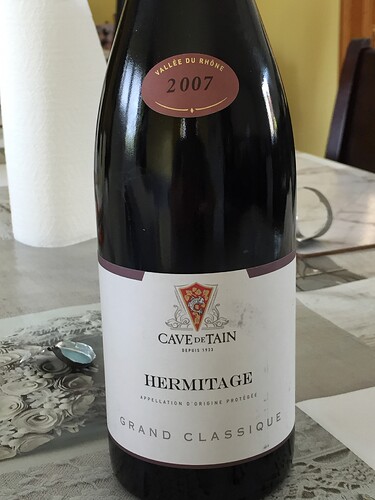 (It was supposed to be for Christmas dinner in 2018 - I bought it the day before I went into hospital and have been looking for an excuse to broach it ever since)