Oh, well, now you've given it a name, perhaps I'll have a go at it again.
Smoked haddock, sauce hollandaise, parmesan.
The important thing in chocolate isn't the sugar or the grease. It's got theobromine as well.
OAB was one of the skills tests in a recent series of professional Masterchef: some absolute horrors ensued. I was tsssking away like anything.
That's why there are other people.
Gus it delights me to know that you tsk at the same things I do
I doubt that would be adequate to cope with drinking tea/beer/wine/gin/whatever all day, but you are thinking along the right lines there Gus. There are some things other people just can't do for you, no matter how hard you try to persuade them.
And much does rather depend on where you're sitting
Think I'm going to enjoy dinner tonight. Leg of lamb, potatoes (roast + boiled in skins), sparrergrass, carrots…
…and just to wash it down: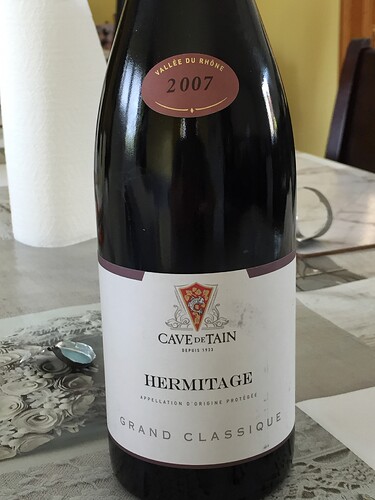 (It was supposed to be for Christmas dinner in 2018 - I bought it the day before I went into hospital and have been looking for an excuse to broach it ever since)
Are we in a birthday situation?
The whole thing sounds gorgeous.
Blimey Joe
I would have had a whole list of excuses before now…
Carinthia.xx
Could be…
Made a pig's ear of the cake, so needed cheering up. (Being presented with a bottle of Bombay Sapphire definitely helped

)
Happy Birthday to ?
Have a grand time, whatever. Food and drink seem perfecto!
Soo xx
joe dere, I have a sneaking feeling that your '

's

' is probably most people's idea of a pretty good

. Not that Bombay Sapphire ever comes amiss.
Many happy returns to the birthdayee. Cheers! Up!
Happy birthday to who
Happy birthday to who
Happy birthday dear mysterious
Happy birthday to who.
Not this one - it fell apart. Was trying to get it done at the same time as the dinner, so had to use the top oven. Not really suitable for cakes - or more likely needed to extend the cooking time. Was worried about it burning.
Then again, it's not as though I was going to be blowing out any candles (Mind you, that'd be a pretty good way of getting the whole cake to yourself…)
Sod the cake, Joe. The dinner sounds perfect.
I hope that you have enjoyed your day…
Carinthia.xx
I am continuing to enjoy it! And the best part is that there's so much left over that we won't have to cook tomorrow! (Unless I have another go at a cake…?)
Might have to lower expectations on the wine front, though… (The Hermitage is quite glorious, BTW)
Happy Birthday to whoever
Here we have dined on paella cooked on the BBQ so the chorizo cooked loooooong and slow and yeilded all its spice into the oil which flavoured the whole dish
Antiques Road show just valued a sewing machine at 5 000 pounds