Gawds, Fishy
"Middle ear infections"
Them's nasty things, & can make one Seriously Wonky…
Carinthia.xx
Snorkity Snork!
Carinthia.xx
I wonder if our Chatelaine has found the nitrous oxide and is sniffing mightily on same
I cannot see her having the snorks at middle lug infections…
I was madly scrolling up and down in search of the source of the snorks - I could do with a good snork - but…
?
Well, that was optimistic.
She gave me the wrong number to ring, and failed to tell me that I would need to wait three working days after the five working days it would take for the referral to go through. She also failed to tell me with whom I needed to make the appointment, something which had to be sorted out by the long-suffering GP practice receptionist at the wrong number I got through to.
And this is a person I am supposed to trust to diagnose anything less obvious than a missing limb? Funny how little I have confidence in that, at this point.
How frustrating, Fishy. And in the meantime you continue to suffer, I suppose. Grrr!
Yes, well, the doctor assured me that it couldn't be a middle ear infection and was instead (gobbledegook) which would probably correct itself in time. Which no doubt was why she referred me to a specialist.
I wonder how long I am meant to wait for it to go away? Days, weeks, months, years? Presumably if I die first that counts as a cure…
I suppose I should be grateful that she didn't leap to a diagnosis of Ménière's disease on the basis of no examination and without the symptoms.
Whereas a good friend who does have Ménière's disease (and who diagnosed himself courtesy of internet) was told by two GPs and an audiology consultant that it was just age-related hearing loss. He was under 40 at the time.
He eventually identified a Ménière's specialist (internet again) himself and insisted on a referral from his GP, which was reluctantly provided.
Dunno why we trust GPs with anything much, really.
Because that's where they keep the drugs?
(ObWillieSutton…)
I am so lucky having our GP
He tries to keep folks out of hospital and he refers you to a specialist as soon as he can
Between him and G the pharmacist we are so well looked after I can see why folk are envious of our primary care
That's marvellous, Twellsy, but I'm sure it doesn't apply to the whole country.
One of my Irish cousins is a highly trained Nurse & Midwife, who is now focussing on exploring the best ways of treating the ever-growing numbers of the elderly with various forms of dementia, & training the next cohorts of medical students in the same.
As with many health-care systems, it is about provision/availability/money.
Her daughter is a Vet, & there is no problem getting to see her, because it has to be paid for. That, I understand, is the same here.
These problems existed pre-Pandemic too. We now have an whole Noo layer of Shite to dig/stumble through.
Fishy, my middle ear problems were eventually dignosed as Labyrinthitis, although Menieres was discussed at the time. I haven't had a bad attack for years, Thank God.
SiL, who is 20 years older than me, was in her 60s when it happened to her. She eventually had manipulation at the Orsepiddle, whereby her head was tipped fairly sharply, to dislodge the crystals which had formed, & were causing her problems.
The name of the procedure escapes me, ATM
Sigh
She was violently sick afterwards, & had to sleep sitting in a chair with her feet propped up for the next 3 nights, but it did work.
I hope that you get to speak with/see the right person soon.
Carinthia.xx
Epley Manoeuvre?
Someone needs to develop teeny-tiny lithotriptors ;- )
That sounds right, Dahlink
I used to remember these things, but the back of my mind appears to be full…

Carinthia.xx
As requested by 3Wells, photos of her new 'at, with thanks to the provider of the Prominent Ribbon: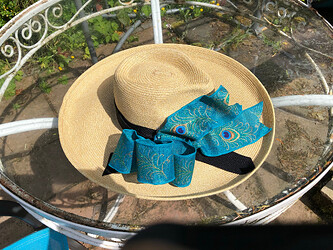 (Unoccupied Hat)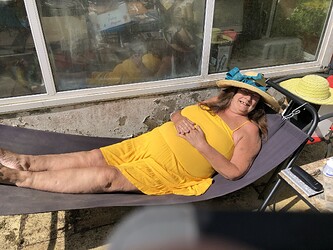 (Occupied Hat)
And very nice it looks too.
Yes! Nat wiv Added Drama…
Gosh, how photos can change things. That hat band now looks black, rather than the original navy.
The Nat at the side of you looks suspiciously like my Wedding Nat wot I painted wiv car spray paint…

Carinthia.xx
That's a concept a limpet can get on board with. Luvverly dulse, too, but isn't it upside down?
That depends on which way up you are when you look at it.
The hat looks super, Twellsy.
Give me ribbon and a glue gun and I can make a bit of a fuss and enjoy it